Fontana (July 2015)— The May Cheong Group (MCG), manufacturers of the famous die-cast and radio control replica brands Maisto and Bburago, have released additional details as well as photos of the company's 1:43 scale Ferrari Signature Series line. Bburago elaborated on both the 1:43 scale 458 Speciale and La Ferrari with photos highlighting new features.
Bburago issued a list of over 10 different enhancements to the Signature Series Ferrari 458 Speciale and La Ferrari from their already highly‐detailed Race & Play line. While some of the details might be a little more subtle and harder to spot than others, Bburago took the time to add even more detail to these iconic vehicles along with storing them neatly in a clear casing with a decorative sleeve for those that like to keep things immaculate. Further details are highlighted in the photos below and the accompanying page.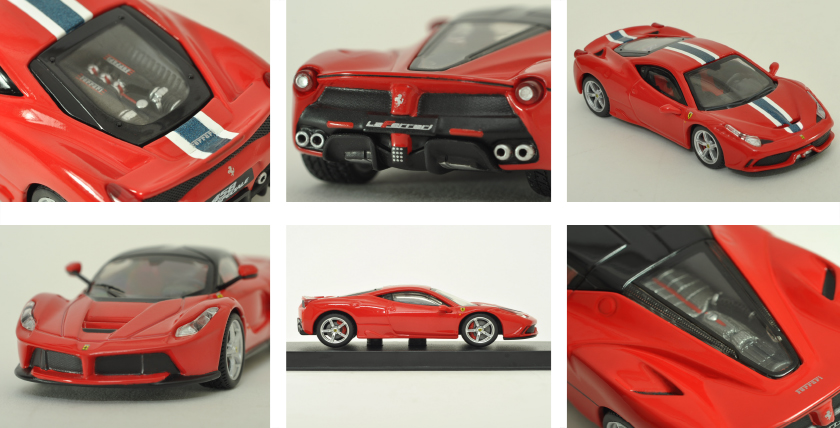 More news regarding the company, including a short documentary, will be available in the Fall of 2017.
DETAILED SIGNATURE SERIES FEATURES
• New design with soft tire
• Detailed brake disc and caliper
• Side signal lamp decorationl
• Detailed black trim on the side body (La Ferrari)
• Highly detailed rear lamp with central silver coloring
• Detailed rear diffuser
• Fully detailed exhaust pipe
• Highly detailed engine compartment
• Well detailed decorative two-tone interior
• Highly detailed dashboard
• Highly detailed steering wheel with Ferrari logo
• Clear case with decorative sleeve for packaging
The 2015 Bburago line-up includes four ranges of products within the Bburago brand - Signature Series, Racing, Race & Play, and Ferrari Kids. More than 100 cars will be launched before the end of 2015.
ABOUT THE MAY CHEONG GROUP
The MAY CHEONG GROUP is a collection of affiliated companies working together to create innovative toy and replica products. The Maisto brand name was registered in 1990 by May Cheong, a vertically integrated manufacturer based in Hong Kong. The Bburago brand was acquired in 2005. MCG employs over 7,500 employees worldwide and maintains their own manufacturing facilities covering over 2,000,000 square feet. For more information, visit them at www.maisto.com, www.bburago.com, and follow them at https://www.facebook.com/BburagoCollezione, https://www.facebook.com/MaistoToys, and www.twitter.com/maistotoys.