Hong Kong (April 2015)— The May Cheong Group (MCG), manufacturers of the famous die-cast and radio control replica brands Maisto and Bburago, has announced additional details and released photos of the company's initial products in the hobby‐grade replica Ferrari Signature Series line. They have announced the specifications for the Ferrari California T in 1:18 scale (open top version).
Bburago announced there would be almost 20 different enhancements to the Signature Series Ferrari California T open top version from their already highly‐detailed Race & Play line. Some of the variations between the 2 brands are obvious to the eye, such as the Signature Series closed, red outer box with vehicle rendering and foil-stamping branding. On the vehicle itself, the unique Blanco Avos color contrasts to the dark painted rims in striking fashion. Further details are highlighted in the photos below and on the following page.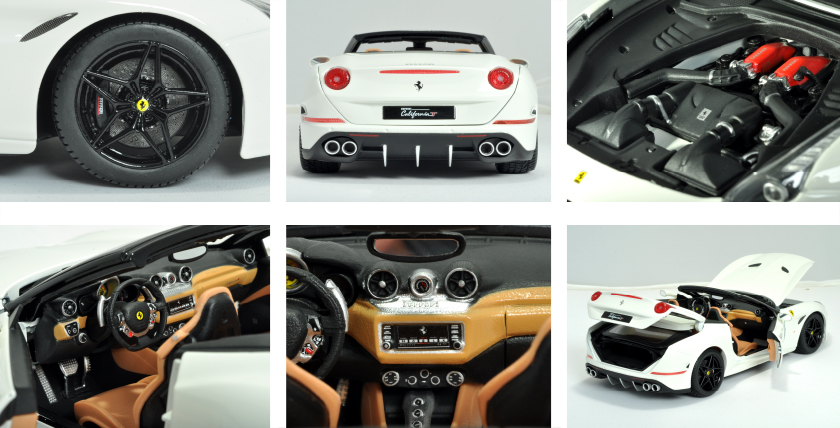 More news regarding the company, including a short documentary, will be available in the Fall of 2017.
DETAILED SIGNATURE SERIES FEATURES
• Blanco Avos (white) color with black finish
• Highly detailed 20" forged dark painted rims
• Text on the calipers
• Decoration on upper brake light
• Decorated inner exhaust pipe
• 3D effect on Ferrari logo
• 3D effect on the rear Prancing Horse
• More engine delineation with red, silver and black effects
• Additional deco on front boot
• Detailed side lamp
• Highly detailed footwell
• Highly detailed foot pedals
• Crema interior color
• Seatbelt buckle and seatbelt lock deco
• Highly detailed dashboard
• Highly detailed steering wheel
• Highly detailed gearshift
• Textured effect on the dashboard
The 2015 Bburago line-up includes four ranges of products within the Bburago brand - Signature Series, Racing, Race & Play, and Ferrari Kids. More than 100 cars will be launched before the end of 2015.
ABOUT THE MAY CHEONG GROUP
The MAY CHEONG GROUP is a collection of affiliated companies working together to create innovative toy and replica products. The Maisto brand name was registered in 1990 by May Cheong, a vertically integrated manufacturer based in Hong Kong. The Bburago brand was acquired in 2005. MCG employs over 7,500 employees worldwide and maintains their own manufacturing facilities covering over 2,000,000 square feet. For more information, visit them at www.maisto.com, www.bburago.com, and follow them at https://www.facebook.com/BburagoCollezione, https://www.facebook.com/MaistoToys, and www.twitter.com/maistotoys.